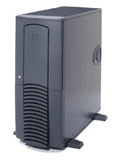 Co-location is a cost effective hosting solution for companies that own their own hardware but don't want the responsibility of providing the necessary infrastructure to keep their servers connected and available 24 hours a day, 7 days a week. Co-location is the perfect choice for companies that want to manage their own Web site applications but house their servers in our facility.
In addition to fail-safe hosting, you'll benefit from our live customer support - where you get technical assistance to keep your operation running around the clock.
Our consulting services will help you integrate new applications and functionality. As you build on your success, we can supplement your operations with value-added options that will navigate an increasingly complex online environment.
Please call us at (888) 573-0574 to have an agent help configure the co-location package that's best suited to your company's needs.