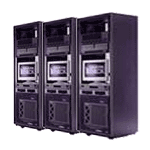 Dedicated, or Managed Hosting provides your business with a higher level of control and manageability. Unlike shared hosting, this solution provides a machine dedicated solely to you. This is a good solution for businesses with sites that receive higher traffic or utilize custom software. With these solutions, you have a greater level of control as to the hardware and software components installed on your server. Below is a breakdown of Dedicated Hosting plan features; for a comparison of our 4 available dedicated hosting plans, click here.
Plan Features
Custom built and configured server
Email for your domain

100 Email boxes w/10MB disk space per box
Unlimited email aliasing and forwarding
SiteYourself Webmail access
Secure SMTP for all outgoing mail

FREE IM, Email and Phone technical support
Additional Options
Additional data transfer
Secure Socket Layer (SSL) encryption*
Please call us at (888) 573-0574 to have an agent help configure the dedicated server package that's best suited to your company's needs.